Ceremonies
It is the work I do connecting with each and every person before and after the ceremony that people say sets me apart and greatly deepens their experience. I would be happy to speak with you about Wedding, Baby naming, Bar Mitzvah or Bat Mitzvah lessons or ceremonies, House Blessings, or Funerals & Memorial Services.
Demonstrating his understanding and sensitivity between families, Rabbi Larry can help guide you through those critical talks that will make your wedding day the most exciting and happy day of your lives.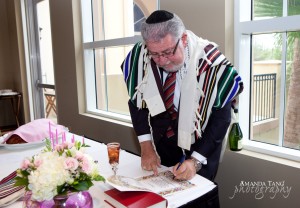 Looking ahead to your future children? Questions or concerns about their religious identity? Through Rabbi Larry's congregational life he worked with many interfaith couples and has some expert advice in raising your children with the perfect blend of Jewish and Christian traditions and ways to respect both of your identities.
Questions about your Jewish or Interfaith wedding?
Call and set up a complimentary meeting today.
"Just in Case"
Near the end of your wedding ceremony, Rabbi Larry will wrap the two of you in a tallis (prayer shawl).
Call Rabbi 954-217-9169 or 866-591-4REB  866-591-4732   SKYPE   REBLARRY
Rabbi Larry will bring in Jewish traditions while welcoming your modern and creative ideas. Rabbi Larry will work with you on special requests. He will walk with you through the whole ceremony process, helping you every step of the way to plan the ceremony of your dreams.
Once you book Rabbi Larry he will be available to talk with you anytime by phone or email or SKYPE. He will help you with the programs and finding a Ketubah
Open and accepting of all traditions, seeing them all as equal paths. Flexible in your ceremony contents. He says "It's your wedding, make the ceremony the way you want it". Works together with co-officiants with respect to the other tradition. The ceremonies are balanced, harmonious and honor both traditions.