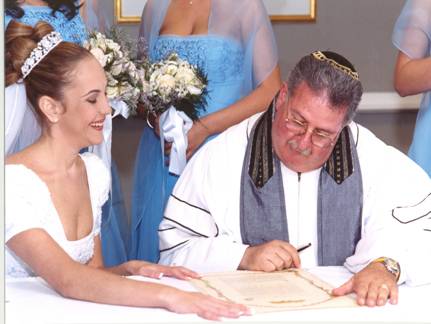 Rabbi Larry translates all the Hebrew blessings and prayers to enable guests (Jewish and non-Jewish) to relate to and understand the ceremony.  Family and guests frequently comment that they feel as if the ceremony was custom-made for them as it touched their inner-soul while attending the wedding. They understood the symbols and felt that the sacredness of the ceremony was passed on to them. Many Jews, who would otherwise not find Jewish representation at their ceremony are deeply thankful that Rabbi Larry was so understanding and respectful of their wishes.
Rabbi Larry's professionalism, expertise and sensitivities towards other faiths will give you peace of mind on your special day.
Rabbi Larry will do his utmost to make your wedding service creative and memorable. He interacts with couples in order to plan and create a beautiful, spiritual and personalized ceremony which ensures that  everyone attending will feel at ease, welcomed and comfortable.  Honors are bestowed on religious traditions of both families which reflect your tastes and preferences. He is also able and willing to co-officiate with clergy from different religious backgrounds.
[cincopa A0LA9-q44hwp]